Next shipment early June 2017
One Little Remote BT
$275 AUD
Includes world-wide shipping.
 Rig-mountable remote that gives you instant access to IRIS, ZOOM, FOCUS, ISO, white balance, shutter, Audio Levels and stop and start recording.
Works well with active METABONES SPEEDBOOSTER (note it must be an active speed booster, check their website).
BLUETOOTH enabled so you can drive from your mobile!
Complete break-out box with lanc, dc power and composite video and BNC reference output. 
Works with both  Blackmagic Micro Cinema Camera AND Micro Studio Camera!
Check out the instruction manual.

The most versatile, intuitive and fastest remote for the Blackmagic Micro Cinema and Studio Cameras
Changing menu options has never been easier or faster. Get to any major menu item by a single or double tap and power through settings via the dial.
Zoom and focus is lightning fast and super accurate with the single dial.  Program focus stops, zoom stops and iris stops!  Link zoom and focus together to pull both simultaneously!
Tiny and tough
The case is 65mm x 50mm x 25mm anodized aluminium with black powder coating. It looks sleek and is strong enough to mount things too with a metal space in the center for extra support.  
Remote control with your mobile
One Little Remote lets you quickly make changes using your mobile, load special function profiles onto your remote AND it operates as a follow focus or lanc controller!  
NOTE: Special thanks to Mark Fraunhofer for sharing this little beauty of a wireless video transmitter! This could be the most awesome complimentary device for the One Little Remote.  I'm buying one for testing ASAP!
Easy and secure - mount directly onto your camera or a cage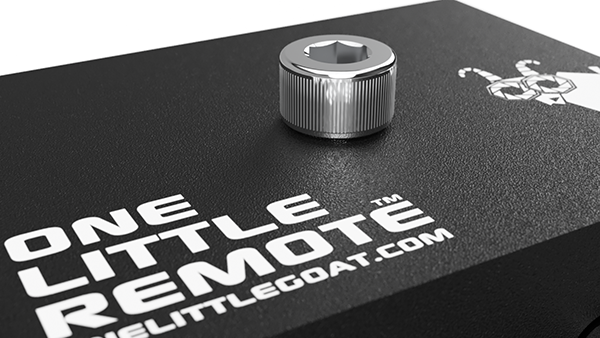 A single 30mm 1/4 bolt is supplied that passes right through the center of the remote.  You can flip the remote which ever way you choose.  You can even invert the button operations!
Break-out box functionality
You can supply 12v dc to your camera through the One Little Remote along with lanc pass-through, and composite video out. There is also two extra sockets that can be used for controlling future accessories (shhhhh don't tell anyone). You can provide external battery power to the remote so it can be used with the Micro Studio Camera.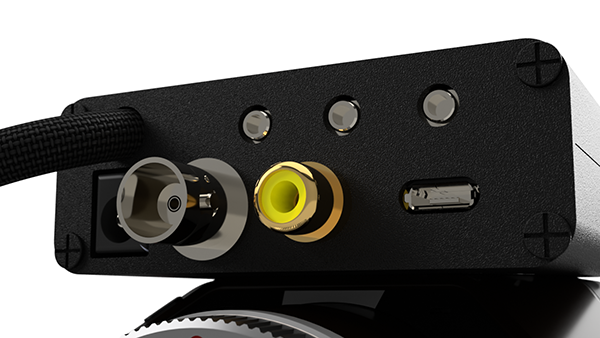 Includes 30cm umbilical cable, 30mm mounting screw and mobile app
The app will work on iOS and Android.  I will be posting an easy to follow tutorial for shortening your cable (however this requires some very basic soldering).
On-going software updates
I'll be pushing the boundaries with development of this remote.  Coming soon is the ability to use the remote as a lanc and follow focus with almost any camera!
Handle grip dock coming soon!
I'm working on an easy to use hand grip that wraps around the remote making it even more versatile!
Very low power consumption
I have conducted tests and using the small canon battery that comes with the remote you can record 1 hour and 25 minutes of video with the remote running without any power saving features enabled.  This compares favourably to to the 1 hour and 30 minutes I was able to record with the same camera and battery but without the remote.  I'll be posting this video test shortly.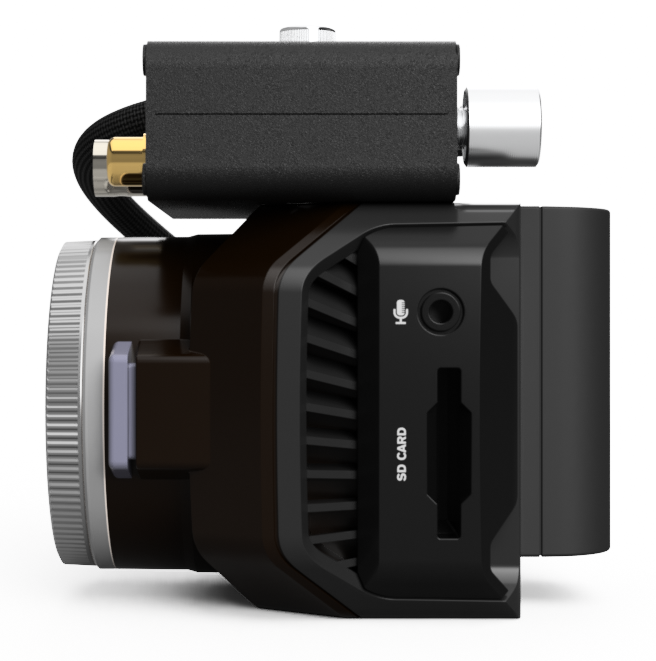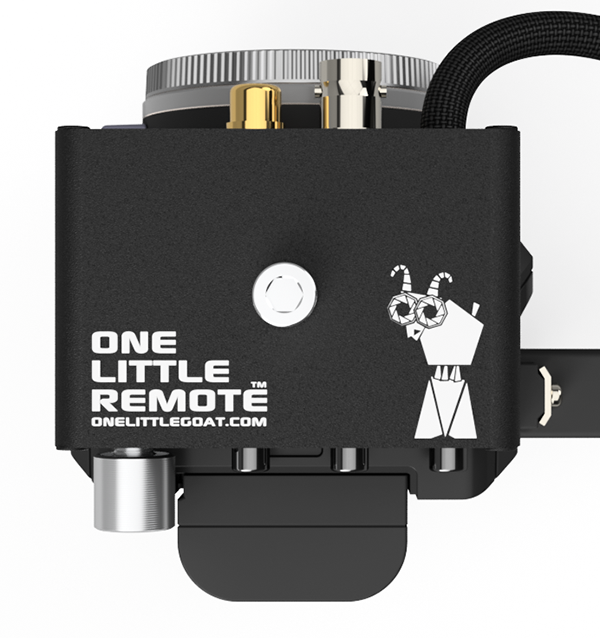 Any questions?
Email any questions to:
Why a Micro Cinema Camera remote?
I loved my pocket cinema camera but it had its flaws - crap battery life, crappy lcd screen.  Then came the Micro Cinema Camera, the same great sensor, but with 60p and much better battery life. 
The BIG problem with the Micro Cinema Camera is the menu system.  YUK!  Soooo many presses to change simple settings. The camera was clearly aimed at the drone/remote market.
I was going to give it a miss, but then I saw a tutorial from Mr Cheesycam! He made his own custom rig with buttons for recording and changing the most commonly used camera settings; ISO, white balance, shutte speed. Plus he had his own button for recording! I loved the look of his setup so decided to do my own.  Of course, I would have rather just bought a remote and be done with it - after all my interest is film making and not electronics.  So I started doing my own DYI version, but one that gave me more flexibility, the sort of remote that I could put anywhere on my rig, or shift to a new rig. By the time I had finished, I had spent about $200 on equipment and test bits and then it hit me that loads of people might not want the hassle, so I decided to make a version that I could build quickly, easily and inexpensively. Thus the One Little Remote Micro was born!